Click here to see Picnic Day 2013 photos!
About Picnic Day
This Saturday April 20, 2013, UC Davis will be holding its 99th annual Picnic Day. One of the largest student run events, Picnic Day attracts over 125,000 people and is one of the corner stones of the Davis lifestyle. Many prospective students visit during Picnic Day so that they can freely tour the campus and experience all the cool extracurricular activities Davis has to offer.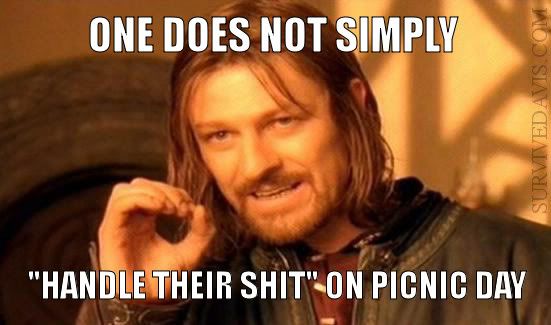 Picnic Day was first held in Davis on May 22, 1909. Picnic Day's origins were in the University Farm Picnic which started as an unplanned wiener roast. Originally hosting only 18 members, attendance quickly increased to over 3,000 people, inadvertently starting the first annual Picnic Day (UCB). Now, the day is considered a celebration of the excellence of the University, the joy of Spring, the partying of youth, the inspiring of kids, and the very essence of Davis. There are activities, events, and exhibitions of every sort and for people of all ages, including children. Picnic Day is a free event that is open to everyone.
It is almost impossible to say which event is the best (*cough* Petting Zoo *cough*) but, some are just always on the top ten list. One of the largest events is the Battle of the Bands because supporting the UC Davis Aggie Marching Band-UH! is just a major part of being a UCD student. The battle is a competition between the Band-UH and other marching bands from all over California. Each band takes a turn playing a song and trying to out-play the last band. This goes on and on until the bands run out of songs or collapse from exhaustion. This event lasts throughout the day so you can wander back to it now and again.  The Band-UH is wonderful to listen to, but if you're not sure how much you want to hear go to the parade and see what you think.
The Parade starts off with a message from the the Chancellor and the parade marshals and consists of floats made by several UC Davis clubs, different academic departments and popular majors, the ASUCD, and outside influences like Boy and Girl Scouts, FFA, and Davis AYSO.
Another favorite event is the Doxie Derbie, held on the far side of campus at the ARC Pavillion. This is a wiener dog race. Just think about that for a second…. yeah, it's awesome. I'm sure all that running will make you think about your own health, maybe you want to start going to a local gym, so while you're over there be sure to visit the ARC Open House. The ARC is huge and beautiful. If you have never been inside take some time to poke around.
On your way back towards central campus, you should check out the focus, tenacity, and power of the Frisbee Dogs. Watch as breeds of every kind demand perfection of themselves in the fight to catch the disc, get the treat, and please the crowds. Pray there is no wind. By now you are probably tired and hot. Does a frozen sweet sounds like the perfect thing? If only there was some way to get instant cold… Well, great minds think alike, but Davis is a step ahead of you with the amazing Nitrogen Ice Cream. There are many other events you should try to see or experience including Sheep herding, Horse Barn activities, the Optical Laser Maze, and the Multicultural Children's Fair. Of course just about every campus club and department has an informational, but fun, table or exhibit. If you have an interest, we have it too!
Eating small meals throughout the day will keep your energy and motivation to explore high, encourages drinking water which prevents heat stress, and will help counteract any alcohol you may ingest. Also, it gives you a great excuse to explore another of Picnic Day's great attractions, the food. The diversity and quality of the food that is offered is awesome. Some of the highlights are Korean beef, Hamburgers/Cheeseburgers, salads, Chinese Food, Hotdogs on a stick, and even some vegetarian and vegan dishes. All the food tastes wonderful and is not so expensive that is breaks the checkbook. As a small town, Davis is full of great restaurants, eateries and holes in the wall. So, venture into Downtown and follow your nose.
Overall, Picnic Day is a fun day for both students and families, but with all great days comes a price. As many students know from past years Picnic day has almost been canceled due to irresponsible people who come to campus completely drunk or high on drugs. This became a huge issue in 2010 and Picnic day was almost cancelled, but a petition was signed to keep it for 2011. Picnic Day 2011 was more secure but there were still some issues so this year the police are going to be more severe about noise levels, drunk people wandering around causing chaos, or people too high on drugs to know who they are. During Picnic Day 2011, a Facebook coined the phrase "Save Picnic Day. Handle Your Shit," which became a popular T-shirt which helped remind people to behave.
For those choosing to drink on Picnic Day (because we know many of you will), be sure to drink plenty of water and don't drink on an empty stomach. If you feel dehydrated be sure to move indoors immediately, and inform staff or Aggie Host Security Officers if you believe you need medical attention. On Picnic Day the job of the AHSO is to ensure you are safe, rather than to punish those who drink/do drugs. This day is about enjoying yourself, your friends and family, and your community. Seeing someone fall down drunk is just not that much fun. Do your thing, but do it responsibly, so it doesn't ruin the day for everyone else. Also be advised that the UC Police Department will cite anyone found drinking on campus.
Doxie Derbie. UC Davis Veterinary School Doxie Derby presents the much anticipated Dachshund races! Come cheer on your favorite wiener! Doors open at noon. Event from 1-3PM at the ARC Pavilion.
Children's Petting Zoo. Children can come pet farm animals like calves, lambs, and goats. Cole Facility 10:30-3PM.
Goat Milking. Try goat milking! This is your chance to milk one of UC Davis's dairy goats. Please be in line by 3 pm to avoid disappointment. Cole Facility 12-3PM.
Nitrogen Ice Cream. A very popular event! Free ice cream made using liquid nitrogen. Outside Bainer hall, 10-2PM.
Laser Maze. Navigate your way through a maze made entirely of laser beams! The Laser Maze is one of Picnic Day's most popular attractions. Get there early to avoid long lines! Happening in 1003 and 1007 Kemper Hall from 10-4PM.
Fashion Show. The Picnic Day Fashion Show showcases fashion collections designed by students who participated in the 'Signature Collections' capstone course. Each student will exhibit a unique and innovative garments based on a personal theme. Freeborn Hall, 1-3PM.
Picnic Day Pancake Breakfast. 40th annual Cal Aggie Alumni Association Picnic Day Pancake Breakfast. 7:30 – 9:30AM at Freeborn Hall.
Dance Dance Revolution. Davis Dance Revolution is a dance competition open to all registered student organizations in which competitors compete for a $1000 prize in either the modern or traditional category. DDR is an exciting and electrifying event that attracts a diverse crowd of spectators and provides an opportunity for student organizations to showcase their talents and uphold the UC Davis Principles of Community. Freeborn Hall 7:30 – 9:30PM.
Exhibits
There are several exhibits throughout campus sponsored by various departments. Click here for the full list.
Safety and Security
UC Davis Police officers, Aggie Host Security Officers, paramedics, EMTs, and volunteers will be providing continuous coverage for the event. A first aid tent will set up on the East Quad.
Lost children will be taken by staff to Hoagland Hall.
For information during the day, you can send tweets to #picnicday.
Be sure to bring your own reusable water bottle. Water will be dispensed for free, but you'll need your own cup or bottle!
UCD Police Department: (530) 754 – COPS
In an emergency call 911.
Donations
Picnic Day donations can be made through the secure UC Davis website.
The Picnic Day Fashion Show showcases
fashion collections designed
by students who participated in the
'Signature Collections' capstone
course . Each student will exhibit
a unique and innovative garments
based on a personal theme.
Comments